Elder Abuse Awareness Week
11 Jun 2020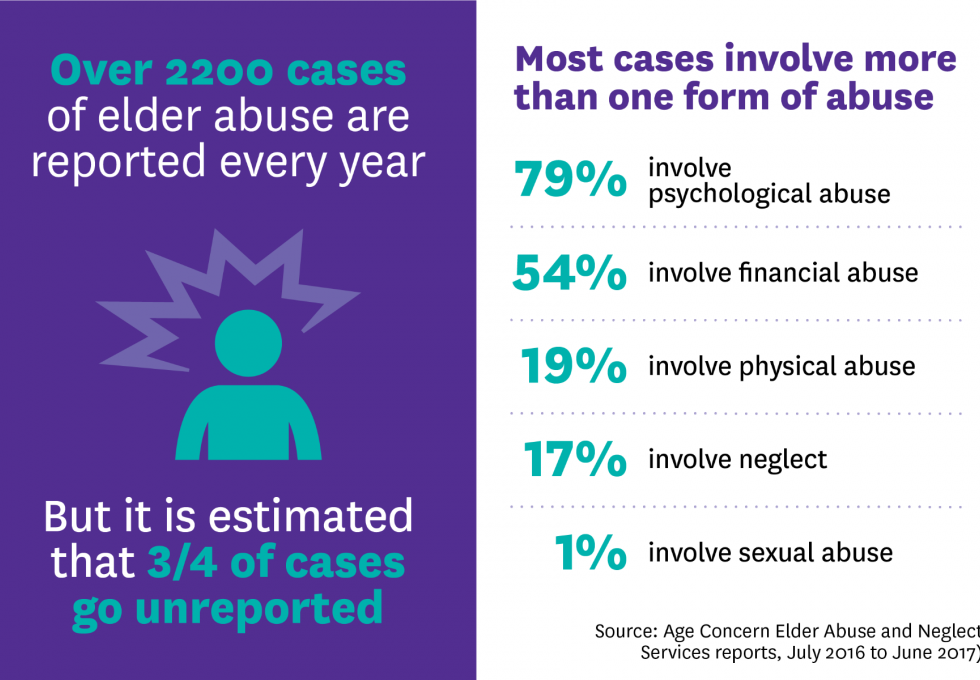 Shirley's story
It's a hard time for everyone. No one asked for this pandemic to cause so much heartache. I try to be understanding. When my daughter asked for her family to come and stay with me, I couldn't say no, could I? She said they were desperate; they couldn't afford the rent once their business closed.
I know that it will be hard for their new business to survive now. After all, this is a tourist town, and nothing will survive without tourists. But a year ago it looked promising. They had sound business plans, so I took out my savings from my husband's life insurance pay-out to get them started. We did it all legally through the bank and I was guarantor for the loan, as my daughter and son-in-law needed to buy vans as well to transport tourists around.
But having two more adults and three children in my house makes it very busy and noisy. I thought I could cope with that and I did try to stay out of the way, but I can't help hearing the family squabbles. The children hate sharing bedrooms and being cooped up in the house so much. Their Dad is not used to being at home with them all day and shouts at them. My daughter seems to try being the peacemaker between the children's fights, and then she turns round and has a go at her husband as well. "We all have arguments in our marriages" – my daughter tells me! The children said they did argue when they lived in their own home too, but he has never hit them. I know they are both stressed about the business failing, so I try to make allowances but hearing the fights makes me so nervous. I ask them to talk quietly as the neighbours might hear the racket. I try not to take sides, but I feel so helpless. Last week I couldn't take it anymore and I asked them both to "please stop"; next thing I'm the one being shouted at, I'm being told its "none of my business", and I'm being grabbed and pushed into the bedroom with the door slammed.
How come it's not my business? It's my savings that's gone into their business and I am going to have to sell this house if the loan can't be repaid. It's not only the loan money, or the bruises on my arms, it's also the constant tension in the house that has made me so anxious. I stay in the bedroom all day now. I feel like I am a little girl in the war, hiding in the underground shelter waiting for the next bomb to fall.
For weeks I kept it hidden. I make sure I only wave if I see the neighbours when I hang out the washing, but I don't talk over the fence to them. When I tried to tell my son on the phone that things were getting harder here, he got angry with me. He said I should never have lent them my savings, because Dad had left that money for him as well. He seems more worried about his inheritance, than he is about me. My sister says I should tell my daughter and her family to leave, because I am too weak and timid to stand up to them.
Jenny's story
Growing up in the country was great. I loved the farm work when my brothers went off to boarding school. But I hated cooking and cleaning, just because I was the girl. I got sick of: "why can't you be more like your brothers; they do so well at school"? Eventually my brothers came home and took over the farm, just like Mum and Dad had wanted; they were the 'golden boys'.
As soon as I could, I got a job in town an hour away and got on with my own life and family. I like having 'a quarter acre' with a few chooks, but I don't fancy the hard farm life anymore. Neither did my brothers, as they put a manager on the farm and took off to the city 5 hours away. Mum and Dad moved into the cottage up the hill because they wanted to stay there until they died. Dad got his wish three years ago, and at the funeral Mum told everyone she was 'very proud of her family'. I guess she wasn't going to air 'dirty washing' about the family, in public.
We would all ring Mum. My brothers got sick of her saying she missed Dad, they told Mum to change the subject or they would hang up. I tried to be patient with her but if Mum stopped talking about Dad, she would rave on about her wonderful sons - as though they were still on the farm with her? My brothers haven't been back since the funeral, but I went up every fortnight to see Mum. Her house wasn't 'spick and span' anymore, she was finally easing up on her housecleaning obsession. Last year I got on the waiting list for a back operation, so I couldn't drive up the winding rural road to Mum's cottage. I rang Mum twice a week and asked her about Marg down in the valley, or Betty at the club she belonged to. She always said they were 'fine'. I asked my brothers to visit as Mum kept saying she missed them, but they replied they were too busy.
Age Concern phoned me, explaining they had been ringing all their members every week since 'the lockdown', but they couldn't get hold of Mum for two days in a row. I tried too but no reply. My brothers said to get the farm manager to pop across the paddocks if I was worried. When the farm manager rang me back, he said the phone was off the hook, the house was a mess and Mum was in bed with her clothes on. After the ambulance took her to hospital, the doctors asked me about her. When I think back now, I hadn't twigged that she might not have eaten the meals she told me she was having, or maybe she hadn't actually heard from Betty or Marg at all?
Mum tells the nurses her wonderful sons run the farm "just like their father". We had a family meeting by Zoom with the hospital. My brothers said she was fine when they rang her every month. The doctors said Mum's health must have been deteriorating for a while, both physically and mentally. It felt like they all looked at me, as if I had neglected Mum because I hadn't been able to drive to see her since before Christmas. My brothers said they would check with their lawyer to avoid their farm paying for Mum to be in a rest home. Her wonderful sons were worried about their money; I am more worried how Mum will survive having to leave the farm she loved. Why am I the one feeling guilty that I couldn't get up there when it got harder for her? Why didn't I pick up the signs that she needed more help to stay in her own home? Why couldn't her sons realise that ringing her once a month wasn't enough to stop Mum feeling lonely and abandoned? If you have concerns about an older person at home, phone Age Concern 0800 65 2 105
Keith's story
Of course, I said 'yes' when my grandson and his partner flew back from South America on those last flights before the borders closed. They had to be in isolation for two weeks and all the family thought this was the best option was for them. The room off the garage has been there since I built this bach 40 years ago. My grandson said it would be fine, after all the rough places they had camped in during their travels
After the fortnight, they said it was cold in that garage room. I moved into the little bedroom off the lounge so they could have the big bedroom for the two of them. We were a "bubble" then, so they did the shopping, as being over 70 it was safer for me not to mix with other people. It was kind of them to cook the meals too, so I would do the washing up. They are vegetarian and tell me they are 'spicing up my life', because I have been a 'meat and potato' man for too long! I thank them, but I can't chew their half-cooked vegies and eating pasta or curries every day is not good for my constitution, so I say I am not hungry. They aren't worried about getting work, they say there are no jobs because of COVID-19. I heard on the radio that farmers need workers, but they told me they only believe in 'organic farming'. It's like they are still on their travelling holiday, (nothing like the 3-week Christmas holiday we had for the 45 years I worked at the factory). They are catching up on all the series they missed, they call it 'binge watching' through all hours of the night. They say it's great to have my TV screen, as their phones are small, so I don't get to see my programmes anymore. They catch up with friends they made on their travels too, but that goes on all night because of the time zone difference, so they sleep-in until the afternoon. I try to be very quiet to get my chores done each morning, but it's hard in this small bach. I get out into the garden as much as I can. They don't offer to help, when they sit on the back porch with their drinks and share a smoke together in the afternoon. I keep my mouth shut, but don't they remember their Nana died of lung cancer? It's been several months now. They plan to stay on and have told their parents that they are looking after me. My children tell me that I can't be lonely now, so they don't need to phone me or drive for two hours to visit me. No one asks me about how I am coping? I creep quietly around my house every morning while they are sleeping, but all night the noise of the TV or 'facetiming' their friends keeps me awake. They use my TV, my car, my house, vegies from my garden and they don't even offer to do the lawns. I am paying for everything and everyone here. I feel like I am the boarder in my own place, with them ruling the roost. If you need to talk about what's happening in your place, Age Concern will listen. Phone 0800 65 2 105 to get support to be safe in your own home.
Old Mac's story
When the Age Concern worker came to my door, she asked what his name was. I said I had only heard him being called "Old Mac", but come to think of it – was that his first name, his last name or just a nick name? He had lived at the end of the street long before we moved into our house a couple of years ago. His house was down off the road so you couldn't too see much of it, you didn't really want to. The front lawn was mowed but the fence could do with a paint.
When the old couple next door moved out last year, they said "Old Mac" was the only original owner left in the street. It was a new subdivision when they bought their sections back in the 60's, they had all raised their families together and helped each other. It's so different now, all the houses have been extended and modernised - except for his. Everyone here works, we leave early, and we don't get home until late. I guess you could say we're all 'on the go', its only since 'the lockdown' that we have been working from home. So no, I don't know anything about him.
You asked when I last saw him? I can't think how long ago that was, we went away for the summer holidays and I haven't seen him since then. I've never thought about him really – why would I? No, I hadn't noticed that there were no lights on at his house. Has he really had no electricity for 6 months? It never occurred to me to ask, and no-one else around here said anything. I think I've only waved to him if he's been at his letterbox when I've driven past. He'd wave back, but we never spoke. I don't remember anyone visiting his house, I have never seen kids there. If he ever had children, they must be middle aged and well gone by now? I think he used to drive an old Cortina, but now you mention it, I haven't seen that either. I wouldn't be surprised if that rust bucket doesn't work - it should have gone to the scrap yard last century.
So why would someone ring you at Age Concern about him? That was brave of her to talk to him when she saw him tripping over the footpath outside the Post Office. When she noticed that no one stopped, she offered him a ride to his house and then gave him some food as it didn't look like he had any. Oh, I see what you mean, she was a new migrant and where she comes from older people would always live with their family. No wonder she was shocked that he was on his own, so she rang Age Concern.
Yes, I heard the Prime Minister said we should keep in touch with older people when COVID-19 came along. I rang my folks every couple of days, and when they couldn't get out to the supermarket, I organised on-line shopping for them. I never thought of checking if he was OK or taking some groceries down to "Old Mac". If you are unsure whether an older person near you is OK, ring Age Concern .
.